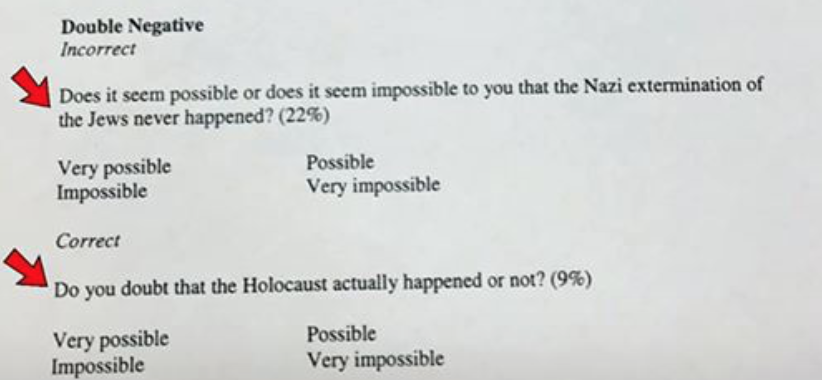 Chicago, Illinois
- By all accounts, an unnamed professor of marketing at
National Louis University
failed his or her own assignment on "bad questions" and how to fix them.
The idea was for business communication students to correct poorly written or confusing statements, such as those involving double negatives. But things went sideways when the professor included statements about whether the Holocaust happened or not.
"Does it seem possible or does it seem impossible to you that the Nazi extermination of the Jews never happened?" read one example. Under the statement are the options "Very possible, possible, impossible," and "very impossible."The statements appear to be rooted in historical polling blunders, but the professor lost the audience, and the point, nonetheless.
Next, the professor wrote, "Do you doubt that the Holocaust actually happened or not?"
Holocaust denialism is recognized as antisemitism. And at least one student in the class was offended enough by the assignment to complain. The assignment was shared on social media and promptly criticized by those outside the university.
The student who complained did not immediately respond to a request for comment. But National Louis said it had removed the professor as the instructor for the course for the remainder of the term. It's also planning additional sensitivity training for faculty and staff members. The university has reached out to the Illinois Holocaust Museum and Education Center and the Anti-Defamation League for help to that end.
The administration also issued the following statement:
"National Louis University is committed to achieving a diverse, equitable, and inclusive environment where every individual is heard, respected, valued and welcomed.
Every day, we strive to create a community where everyone is empowered to live their full authentic selves. We are taking this incident seriously. We do not tolerate discrimination in any form and have a no retaliation policy for individuals who file claims of discrimination. We are currently investigating and will determine the appropriate course of action once our investigation is complete."
"As an institution of learning, we believe in the importance of not becoming complacent about these issues and that we must remain, especially now, vigilant to any form of discrimination," the university said. "Every day, we strive to create a community where everyone is empowered to live their full authentic selves."
The marketing professor also emailed an apology to the three students enrolled in the course, according to National Louis, but the university did not share that note.