Jersey City, NJ
- A Jersey City Board of Education trustee suggested that the shooting at a Jewish market that left six dead last week, including the shooters, was justified as a result of how Jewish people treat African Americans.
Both suspected shooters, David Anderson, 47, and Francine Graham, 50, were found dead after a shootout with police. Both of them expressed interest in the Black Hebrew Israelites, but neither had formal connections, and the shooting is being investigated as a hate crime.
On Saturday, Lincoln High School Principal Chris Gadsden posted a column from InsiderNJ on Facebook. The column, titled "Faith and Hope to Fight Hate," focused on a recent event bringing together religious and civic leaders to address the shooting and the hate that precipitated it. While discussing the growing tension between the African American and Jewish communities, they also spoke about the encroachment of a new development making its way into the traditionally poorer neighborhoods.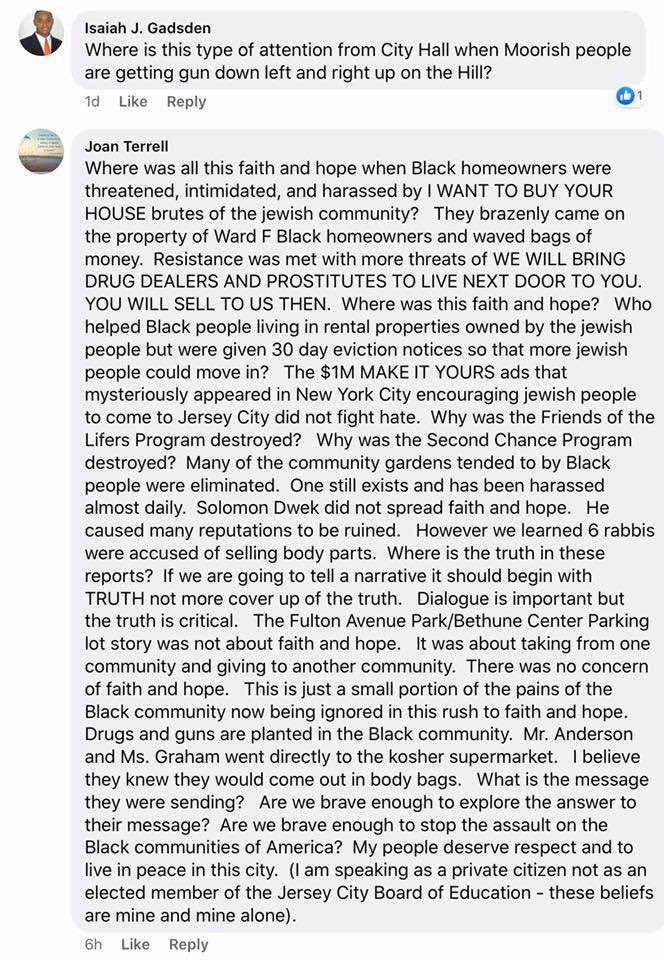 Joan Terrell, who sits on the Jersey City Board of Education, commented on the post questioning, "Where was all this faith and hope when Black homeowners were threatened, intimidated, and harassed by I WANT TO BUY YOUR HOUSE brutes of the [J]ewish community? ... Who helped Black people living in rental properties owned by the [J]ewish people but were given 30 day eviction notices so that more [J]ewish people could move in?"
Her post continued to accuse Jewish residents of forcing African Americans out of their homes and referenced community programs that have been eliminated.
"Mr. Anderson and Ms. Graham went directly to the Kosher supermarket," Terrell wrote. "I believe they knew they would come out in body bags. What is the message they were sending? Are we brave enough to explore the answer to their message? Are we brave enough to stop the assault on the black communities of America?"
She concluded her post by explaining that she is speaking "as a private citizen" and that her beliefs "are mine and mine alone."
Mayor Steven Fulop condemned Terrell's comments and said, "The African American community has been nothing short of amazing over the last week," according to
InsiderNJ
. "Countless people have reached out to support their neighbors and express the sentiment that we are all working towards a better city together. It has been inspirational to see the community pull together and that is the Jersey City we all know. I'm saddened by her comments overall and the ignorance they demonstrate."
UPDATE:
Evan Bernstein, the New York/New Jersey regional director for the Anti-Defamation League, called the statements "deeply anti-Semitic and highly offensive to the victims." He added, "They also do not reflect the beliefs and values of the larger Jersey City community, which has come together in this time of darkness to support one another and to stand firmly against hatred and bigotry of any kind."