Mala Blomquist
The FBI announced Wednesday that four arrests have been made amid the investigation of a violent extremist group with a connection to Arizona.
During a press conference Wednesday, officials said the arrests were made during the joint investigation involving Washington, Texas, Arizona and Florida.
The investigation reportedly involved "racially motivated violent extremists from across the U.S...charged today in U.S District Court in Seattle with a conspiracy to threaten and intimidate journalists and activists," officials say.
The defendants charged in the conspiracy include: Johnny Roman Garza, 20, of Queen Creek, Arizona; Cameron Brandon Shea, 24, of Redmond, Washington; Kaleb Cole, 24, of Montgomery, Texas; and Taylor Ashley Parker-Dipeppe, 20, of Spring Hill, Florida.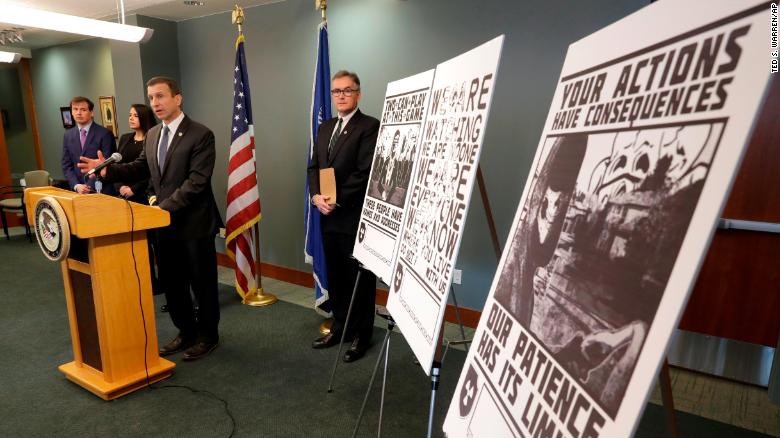 Raymond Duda, FBI Special Agent in Charge in Seattle, speaks about charges against a group of alleged members of the neo-Nazi group Atomwaffen Division.
The defendants reportedly used an encrypted online chat group to identify journalists and others they wanted to intimidate who they thought "threatened their ideology," officials said Wednesday.
"Defendants Cole and Shea created the posters, which included Nazi symbols, masked figures with guns and Molotov cocktails, and threatening language," a press release says. "The posters were delivered to Atomwaffen members electronically and the coconspirators printed and delivered or mailed the posters to journalists or activists the group was targeting."
The group focused primarily on Jewish or journalists of color, the FBI says. "These defendants from across the country allegedly conspired on the internet to intimidate journalists and activists with whom they disagreed," said Assistant Attorney General for National Security John C. Demers, in a press release. "This is not how America works. The Department of Justice will not tolerate this type of behavior."
In the Phoenix area, a poster was delivered to magazine journalist Mala Blomquist.
"It is terrifying when you're targeted like that," said Blomquist, Editor in Chief of Arizona Jewish Life Magazine.
Blomquist was one of a handful of journalists across the country targeted by the extremist group, Atomwaffen. In early February, Blomquist found one of the group's threatening and racist flyers on her window.
"I went to pull it off my window and it was glued onto my window," she said. "It was terrifying because you're thinking, 'When did it happen? When did they do this? Why did they do this? Is there going to be more?'"
The goal of the flyer, according to FBI court documents, was to "harm harass and intimidate...threaten journalists...and retaliate against unfavorable reporting."
"I didn't leave the house for a week after that, alone, because I was afraid," said Blomquist, who is not actually Jewish.
All of the posters had threatening phrases on them, as well as Nazi propaganda.
"My name and address were printed on the poster," she said. "It's reassuring that they've been arrested. But you don't know, I've been looking over my shoulder since it happened."
Garza is now looking at years in federal prison. "He's 20 years old and he's ruined his life. And what for? For a hate crime?"
Blomquist says the arrests and coordinated attack are an unfortunate, but an important, reminder.
"A lot of people who aren't Jewish don't realize that anti-semitism, hate crimes are on the rise. And hate is going on very much every day," she said.
But she is not going to remain silent or be intimidated. "We've got to fight the hate. You've got to come forward. It's that adage if you see something say something. We can't hide anymore," said Blomquist.
The Pinal County Sheriff's Office says they assisted the FBI with a connected investigation near Rafael and Reventon drives in Arizona City early Wednesday morning. Arizona City is located near Eloy, south of the Valley.
One of the defendants, Shea, will reportedly be making his initial appearance in court in Seattle on Wednesday afternoon.
"Those arrested in other districts will make their appearances in federal court in those districts and will appear in Seattle on a future date," officials said.