Rep. Ilhan Omar's (D-Minn.)
US Representative Ilhan Omar (D-MN) has once again found herself mired in controversy after her campaign sent out a mailer identifying three Jewish donors supporting her Democratic primary opponent, the Jewish Telegraph Agency reported on Thursday.
"Can We Trust Antone Melton-Meaux's Money?" reads the campaign literature, first obtained by Vice News.
Melton-Meaux, a self-proclaimed pro-Israel Democrat, is one of four candidates challenging Omar in an Aug. 11 primary for Minnesota's 5th Congressional District.
The mailer quotes at least three wealthy Jewish Americans who are supporting Melton-Meaux outside of the 5th district, and include billionaires Seth Klarman, a hedge fund executive, and Jonathan Gray, president of the Blackstone Group private equity firm.
Also included is Stanley Weinstein, a retired real estate executive from Miami Beach.
In a request for comment, Rabbi Avi Olitzky, a resident of the Minneapolis suburb of St. Louis Park and a previous defender of Ilhan Omar, told Vice News he was "beyond dismayed."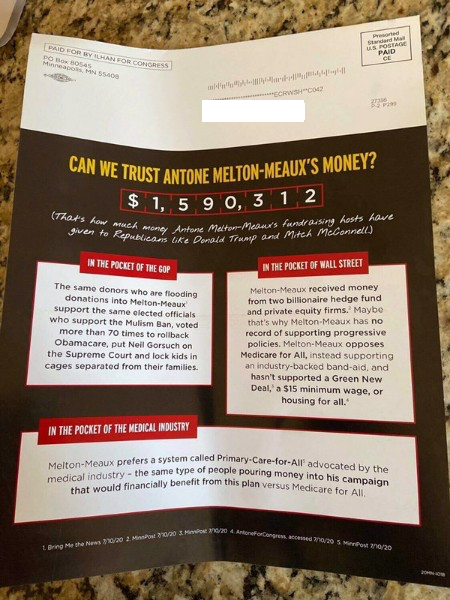 "Most disappointing were the presence of tropes that we'd personally discussed as hurtful, as offensive, and that I received a commitment not only would it not happen again but education would take place to learn more as to why it's a problem," said Olitzky, Rabbi of the Beth El Synagogue in Minneapolis.
Omar has not yet publicly addressed the issue.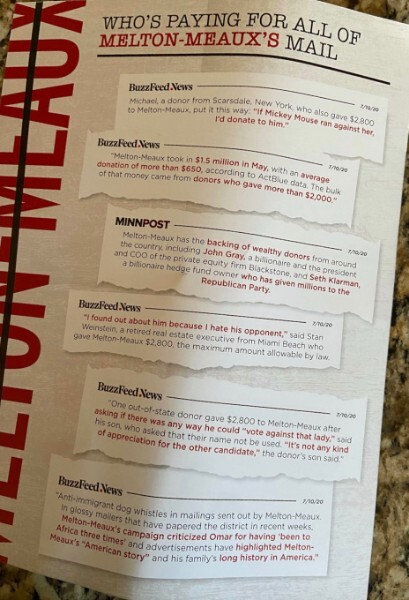 Among the congresswoman's past controversies, Omar is one of only two US lawmakers who have publicly supported the Boycott, Divestment and Sanctions (BDS) movement, along with Palestinian-American congresswoman Rashida Tlaib (D-Mich), leading to accusations of anti-Israel bias.
In 2012,
at least six years before running for congress, Omar tweeted that "Israel has hypnotized the world" while doing "evil," comments she has since apologized for.
"It's now apparent to me that I spent lots of energy putting my 2012 tweet in context and little energy is disavowing the anti-semitic trope I unknowingly used, which is unfortunate and offensive," Omar later wrote.
Omar is currently leading in the polls by double digits, but Melton-Meaux has so far outraised his opponent by over $2.5 million.